I was looking at the obey site, because I found them on facebook, and this one guy is wearing hightop vans. And I forgot I had some in the garage from moving. Mine are totally better than the black ones. And my first leg tattoo by my friend cory.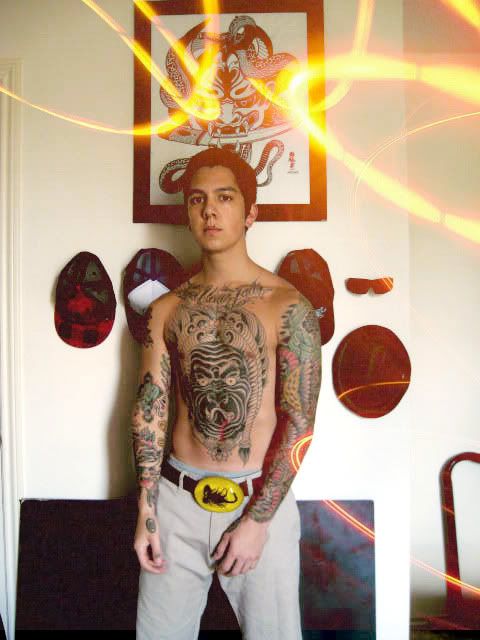 Not really but I seriously have drank about 3 gallons of water since yesterday until now. I took that pic to post for a tattoo community on tumblr and a lj one called TattoosFuckYeah. I usually don't take pics like this, or like them. My 4th of July was eventful. I helped my friend move to his new apartment, up 3 floors, sweated our asses off, then his g/f bought a case of beer to drink after and enjoy the pool. Afterwards I went to my friends from San Antonio party close by to party at there new house. It was fun, they had 3 kegs. Some douches were lighting up fireworks, and after we found out who they were we kicked them out. Right after my friend's roomie shook the hands with this cop to not light anymore, some idiot lit some blackcats, and we kicked everyone out. LOL, then it came down to about 12-15 people after that, and a whole keg to us. I haven't drank in about 2 months, so now I got all the crap out of my body from the h20.
July 3rd was eventful also, I got my things back and had one of the most intense workouts with my friend who is a powerlifter at Texas Tech. I am going to post pics of the gym sometime. I squated 300lbs 6 reps. I'm still sore, haha. How was everyones elses 4th?
Current Mood:

bored

Current Music:

Black Moth Super Rainbow - When the Sun Grows on Your Tongue
Sooo I got all my stuff back from my apartment that I had with my ex and room-mate. I am not stressed anymore about my fav belongings disapearing anymore, and HAPPY. I finally got my digital camera back, set up my room to fit my leather love seat, AND found my favorite ring ever, I thought I lost it for good. It was hand made in India, and has a huge black stone on it. Anyways, I was uploading pictures to facebook and saw a lot of pics that were taken of my ex and her "parties", it was funny to see them. (and the people around). Suckers. This pretty much sums up all the pics in my camera though, the ex next to the "friend". I put it up on facebook like this hahahaha. I'm so ready to go out tommorow, and meet some fresh faces at my friend's party, it's going to be fun! I'll post the photos of course!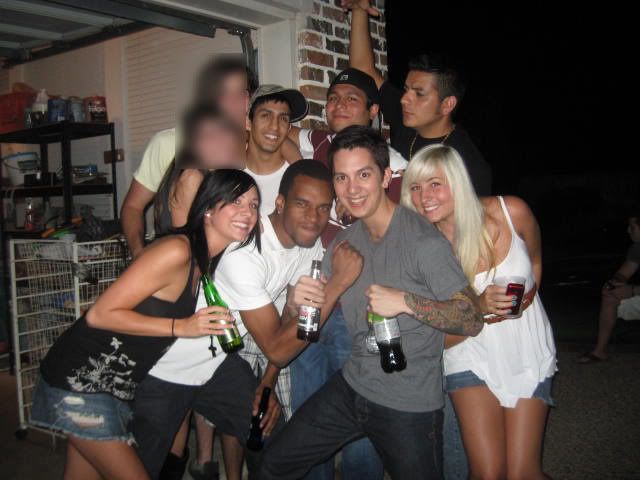 Current Music:

4th Dimensional Transition- MGMT
I don't start work until the 15th : (. OH WELL, at least I have 2 weeks to enjoy my 4th of July, whatever that is. I am going to paint for the 2 weeks to fill in the void though. I have been getting cabin fever staying home. I can't just rely on working out all the time for my outlet, to bad all my friend s are to busy to go skate. I miss skating so much, esp since I'm single now, I have all the time in the world to do whatever I want. Can't wait to get my truck back, it will all change. Worked on this image for a skateshop, but I don't know if they will use it yet. It was inspired from an oldschool series called Powell Peralta, from the 80's.
Can't wait to start working, I will be getting paid great. And I can get all my electronic nerd stuff I want. YES. I need to find more friends on here, what happened to raptamaekout, it takes forever now to get a post accepted. Need to find some more communities!!!! Going to make a new thing tonight, going to be fun to work on. I made this because Megan Fox is too good looking and it should be illegal. I love how the ladies hate her too hahaha.
I've made a livejournal again, I thought I would never be back, but HERE I AM.
Current Mood:

accomplished